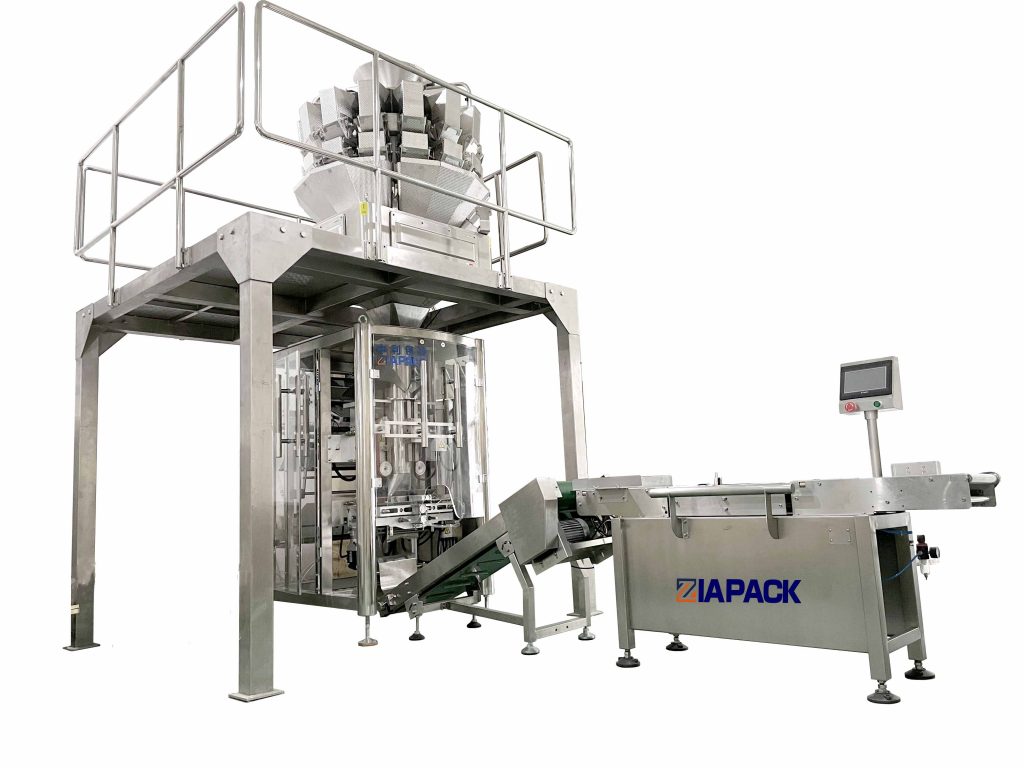 Pasiuna:
This machine can automatic realize functions of bag- making, filling, sealing, printing, cutting, etc.
four corners are added on the packaging bag based on vertical bag, making the packaging bag have a stronger spatial vision, nicer appearance and more attraction.
This packaging machine adopts import servo motor for film feed and the man-machine interface uses advanced touch screen. Operation simpler and more convenient.All of the components adopts international famous brand, PLC is SIEMENS, servo motor is PANASONIC, touch screen is SIEMENS, cylinder and air vavle is SMC. parts which contact with material 、control cabinet 、main frame are made of stain less steel304
Teknikal nga Parameter:
Weighing Range: 1000-5000g
Packaging Speed:20-40 bags/min
Bag size: (80-460)*(100-350)mm(L*W)
Kinahanglanon sa compressed hangin: 0.6Mpa 0.65m³/min
Reel sa gawas nga diametro: 400mm
Core sulod nga diametro: 75mm
Timbang sa makina: 800kg
Gahum nga tinubdan: 5.5kW 380V±10% 50Hz
Panguna nga Mga Kinaiya ug Kinaiya:
A wide range of pouches:  Pillow and Gusset pouches(optional).
Taas nga tulin: 20-50 bags/min
Sayon nga operahan: PLC controller ug color touch-screen, fault indication sa touch screen.
Sayon sa pag-adjust: mga 10 ka minutos lamang aron usbon ang lainlaing pouches.
Pagkontrol sa kadugangan: ang gikusgon mahimo nga usbaw pinaagi sa frequency conversion sa sulod.
Hataas nga Automation: wala'y tawo nga natimbang sa proseso sa pag-pack, ang alarma sa makina awtomatik kung mapakyas.
Kaluwasan ug Kalimpyo:
Walay pelikula, ang makina mag-alarma.
Pag-alarma sa makina ug paghunong kon ang dili igo nga presyur sa hangin.
Ang mga gwardya sa kaluwasan nga adunay mga safety-switch, alarma sa makina ug mohunong sa dihang gibuksan ang mga safety guards.
Ang pagpanghinlo sa kalimpyo, ang mga parte sa pagkontak sa produkto gisagop sa sus304 nga stainless steel.